VoIP Systems

On-Premise VoIP
An on-premise VoIP system is a phone system whose equipment — including servers, cables and routers — must be installed and maintained by the company purchasing the system. All hardware associated with a traditional on-premise PBX system is deployed and maintained by a company's IT staff
Hosted VoIP
Some of the most feature-rich systems available, hosted-VoIP services rely on a service provider's hosted-PBX equipment to route a company's voice and data traffic. Calls are routed over the PSTN (public switched telephone network) to the hosted-PBX system.
This method is best suited for small and medium-size businesses with limited IT resources and budgetary funds that want the perks of a powerful VoIP system without the hefty price tag.
Carriers
| | |
| --- | --- |
| Acess2Go | Verizon |
| AireSpring | Logix |
| Charter Communicaitons | XO |
| Comcast | Windstream |
| Global Crossing | Touchtone |
| Level 3 | Time Waner Cable |
| Paetec | Qwest |
| Voice Runner | |
Networking
Local Area Networks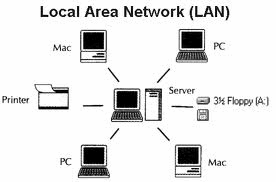 A local area network (LAN) is a group of computers and associated devices that share a common communications line or wireless link. Typically, connected devices share the resources of a single processor or server within a small geographic area (for example, within an office building). Usually, the server has applications and data storage that are shared in common by multiple computer users. A local area network may serve as few as two or three users (for example, in a home network) or as many as thousands of users (for example, in an FDDI network).
Wide Area Networks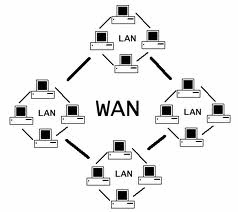 A wide area network (WAN) is a geographically dispersed telecommunications network. The term distinguishes a broader telecommunication structure from a local area network (LAN). A wide area network may be privately owned or rented, but the term usually connotes the inclusion of public (shared user) networks. An intermediate form of network in terms of geography is a metropolitan area network (MAN).
Wireless Networks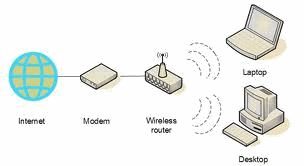 A wireless LAN (or WLAN, for wireless local area network, sometimes referred to as LAWN, for local area wireless network) is one in which a mobile user can connect to a local area network (LAN) through a wireless (radio) connection.
IP Surveillance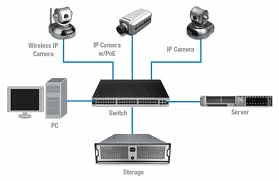 IP surveillance is a digitized and networked version of closed-circuit television (CCTV). In an IP surveillance system, an IP camera records video footage and the resulting content is distributed over an IP (Internet protocol) network